By the Guest Blogger Team at T.M. Lewin
It's no secret that first impressions are powerful. It really is true, you never get a second chance to make another first impression. Research proves that it takes only a tenth of a second to form an impression of a stranger from only their face. When you begin to factor in a person's choice of clothing, body language, and appearance, the stakes are even higher. According to several studies, 90% of people form their opinion about you in under less than a minute of an initial introduction. In a job interview, this means that a potential employer could have made their decision of whether or not to hire you before you've even begun the formal questioning.
Does the phrase "business casual" fill you with confusion and uncertainty? What really defines business casual from business professional or formal?
Deciding what to wear for an interview or a day at work is becoming increasingly more perplexing. Office environments continue to change and traditional standards of professional dress have surely become more relaxed. What is acceptable and appropriate to wear to an interview or new work environment remains subjective and universally undefined. Beyond the employee handbook (often received after the interview/offer letter) there is no concrete definition for what warrants an appropriate outfit from the next. Of course, in any work environment a dress code is circumstantial to geographical location, workplace culture, corporate policy, title or position and the field or line of work. One thing that remains unquestioned is the importance of a positive and polished appearance on interview day.
Even the best candidates who have crafted the perfect resume, completed their research about the company and their potential role forget to also consider the office dress code. There are many ways to gain an insider's insight prior to the interview. Be observant while dropping off a resume or while in attendance for an office tour. If the job prospect is local, consider casually walking around the lobby or possibly sitting in your car in the parking lot to watch what people are wearing. If your target company is remote, you may be able to gain some insight from company photos of employees, especially in groups versus professional headshots.
T.M. Lewin, experts in office-ready work-wear in the UK, has helped to decipher the professional dress code puzzle. They have crafted the savvy guide below as a perfect tool for aspiring jobseekers, with plenty of style references, tips and advice for our modern workforce. Please note that while the guide has been developed for the European workforce, it can easily be adapted to what you learn upon researching the interviewing company.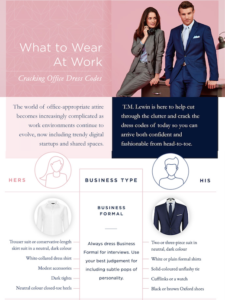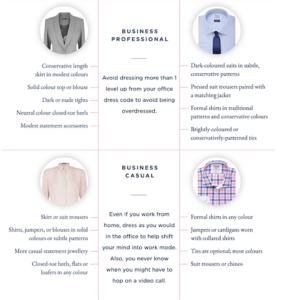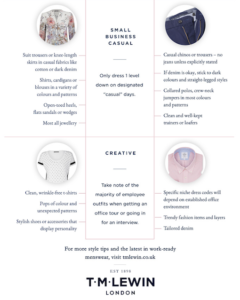 T.M. Lewin is a British heritage brand established in 1898 on Jermyn Street in London. Experts of smart style and dressing our modern working world. is a British heritage brand established in 1898 on Jermyn Street in London. Experts of smart style and dressing our modern working world.