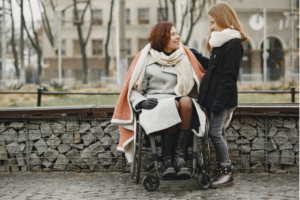 Photo Credit: Gustavo Fring via Pexels
Guest Post by Elijah Dawson,  www.lookforjobshere.com
Trying to provide for your family when you live with a disability can be difficult. But if you need to supplement your income, there are more options than ever these days. Technology makes it possible to keep a side gig, start a business, or find a job that allows you to work from home and use your skills. Below, we provide some practical advice for starting your journey.
Finding a Side Gig
If you are unsure of what type of job or company to pursue, take time to research the many possibilities. You might be surprised by how many options there are for people with disabilities, and as a parent, you can quickly find the perfect work-from-home job so that you can make money while working in an environment that accommodates your needs.
For instance, you can become a freelancer in one of many specialties, assuming you have a marketable skill. Many freelancers build a career in writing, web design, virtual/remote assistance, accounting, and many other niches.
You could become a transcriptionist to listen to audio and video content and convert it to written text. Or, you could manage the social media accounts of other individuals and businesses, which is the perfect option if you love to engage with people online.
Suppose you are an effective communicator and enjoy daily interactions. In that case, you could thrive by joining a virtual customer service team, and if you are fluent in more than one language, you could make money with a translation job. The opportunities are endless, so take time to look into the options to find something that matches your skills, knowledge, and interests.
Finding Work    
If you don't want to start a full-fledged business, you can find work as an employee. Freelancing also falls into this category, though you can create a business as a freelancer if you choose to. Start by asking around your personal and professional networks for referrals; this is perhaps the quickest way to land a high-quality job and should be the first strategy you try.
Then, start looking at online job boards. Create accounts on platforms like Fiverr, Upwork, Freelance Writing Gigs, ProBlogger, and any other job boards that can help you find clients. Some job boards cater to a general audience, while others deal with specific niches.
Already have a side business idea? 
If you want to turn your side gig into a business, you will need to take many steps to set yourself up for success. You will need to choose a business structure and submit state-specific paperwork. If you're wondering how to start an LLC, you can hire an attorney, file yourself, or use a formation service to help you. Start by registering a unique business name and assigning a registered agent. Then, you'll need to file specific paperwork with the state to get your EIN, or employer identification number.
Next, you will need to make a business plan. The more thorough your business plan, the more information you will have to make critical decisions that ultimately determine the direction of your business.
Another aspect is finding funding sources, which can often be one of the biggest challenges. One important factor to consider when looking for funding is your credit report. Your credit report can give lenders an idea of your overall financial health and how reliable you will be as a borrower, so take steps to improve your credit score if you need to.
If you are starting a business, you must build a brand. This means developing a visual identity and taking steps to establish your reputation in the industry so that your products or services are easily recognizable by your target audience
You can do this!
As a person living with a disability, you likely face unique challenges in the workplace. And if you need to supplement your income or build a full-time gig from home, you live in the right day and age. Consider the tips above to explore your options, find a side gig or job, and build a business. In no time, you could be making a living doing something you love from your home office!