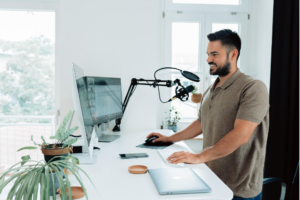 Photo by Malte Helmhold on Unsplash
Guest Post Blogger: Stephanie Haywood is happy to be living her best life. Personal development and self-care gave her a boost when she needed it most, and now she works to share the gift of self-knowledge, self-care, and self-actualization with everyone who visits MyLifeBoost.
Are you Multilingual?
Launching a career might be easier than you think—if you're bilingual or multilingual. The ability to speak more than one language is a sought-after qualification. From applying for translator jobs to creating a business centered on your linguistic talent, learn how to begin a career as a translator with this guide.
Find the Right Translator Path
A variety of translation jobs are available for bilingual or multilingual professionals. Explore your options and determine whether to expand your education to earn your ideal role.
For example, you could use your language skills to translate for people relocating to a country where they don't speak the language. Or, you might prefer to translate official documents, which would require additional education.
Per the U.S. Bureau of Labor Statistics, 32 percent of translators work in the professional, scientific, and technical services sectors. Self-employed professionals make up 20 percent, while 19 percent work in educational services. Other translators and interpreters work in hospitals and government applications.
Consider types of jobs that interest you and explore their qualification requirements. For example, the United States Courts have strict translator requirements. Translators must understand the cultural nuances of language and maintain the speaker's intended meaning. In a court setting, clarity, multitasking ability, and public speaking are all necessary skills.
Build Necessary Translation & Other Skills
Though you may be fluent in multiple languages, skill building might be necessary for a career in translation. Building other skills helps you succeed in any translating capacity.
ZipRecruiter notes that for most translator roles, you will need a bachelor's degree in translation and be able to pass a language proficiency test. Additional skills like being highly organized and knowledge of recording software and tools are helpful, too.
Additional certifications might make your application stand out, depending on your industry or field. Fluency in additional languages also gives your resume an edge. Plus, research confirms it's easier to learn a third or subsequent language, versus a second.
Polish Up Your Resume
Assembling a resume is an excellent first step toward impressing potential employers or clients. To write a stellar resume, highlight your most relevant experience, quantify your accomplishments, use action verbs, tailor your resume to the job posting, and proofread for errors and inconsistencies. If you want to create a truly high-impact résumé that gets results, consider working with a professional résumé writer to land more interviews.
Saving your resume as a PDF ensures that the formatting remains consistent across different devices and software, making it easy to share and present a professional appearance. If you'd prefer to write your resume in a different file format, you can try this tool to convert a file into a PDF once you're finished. Be careful about using templates that are not optimized to work with Applicant Tracking Systems (ATS), or your résumé might sit in cyberspace.
Build a Business on Your Own
Applying for translating jobs might help jumpstart your career, but starting a translation business is another career option. Unlike other startups, which often have high overhead costs, working as a translator requires very few expenses.
You can minimize overhead costs by working from home, using reward-earning credit cards for business purchases, and taking advantage of tax benefits. Business formation can also help protect personal assets and reduce expenses.
Forming an LLC, for example, gives tax advantages, limits liability, and offers flexibility. Using a formation service also avoids lawyer fees; check the rules in your state before proceeding.
Start Seeking Work
As with any career path, finding work is often the most involved part of starting a career as a translator. A strong resume and solid professional skills go a long way, but there are other things you can do to find work.
For example, choosing to attend select networking events can expand your professional circle. Explore networking events that fit your career goals and only attend those that provide top-tier connection opportunities and offerings.
If you're a polyglot, putting your language skills to good use is a smart career option. Whether you start a business or head to work in your industry of choice, the options are limitless. Get started by creating a resume and seeing where your expertise takes you.